Biofuels use the same land and the same crops we use for food and turn them into fuel for cars. Put simply, biofuel obligations lead to less food and can push farming communities off their land.
We asked our supporters to join us in getting the government to recognise the harm that a biofuel mandate would cause. We shared these messages with the Government – and together we won! The Government dropped the mandate, meaning they can focus on solutions to reducing emissions.
In 2022, the Government and Climate Change Commission were sued for errors in Aotearoa's recommended climate action. Lawyers for Climate Action argued that New Zealand's climate targets are not sufficient to keep global heating to 1.5 degrees.
While the case was being made in court, we asked our supporters to make their own case to the government for faster and fairer climate action to protect what we love.
Cutting Climate Pollution
The unfortunate reality is that agriculture is responsible for 50% of New Zealand's greenhouse gas emissions. The only way for New Zealand to play its part in keeping within the crucial temperature limit of 1.5°C is if the government does more to reduce emissions in the agriculture sector and support more farmers to transition to sustainable food production.
Our supporters joined us in calling on the government to step up New Zealand's climate target by incentivising more sustainable farms.
Amidst the Covid-19 pandemic, no one is safe until everyone is safe. Oxfam joined the People's Vaccine alliance, pushing for pharmaceutical monopolies to share their vaccine formulas and know-how, and for governments to support the proposal to suspend vaccine patents at the World Trade Organisation.
Together with our supporters, we put pressure on Pfizer to share their know-how so everyone can could get out of the pandemic together.
Big Hearts, Connected World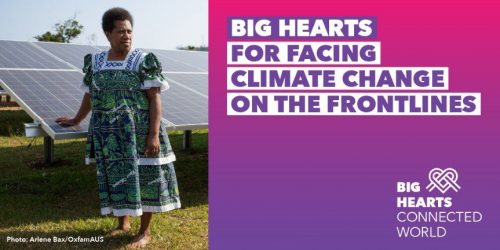 When the Coronavirus pandemic began in 2020, we joined together with 13 other NGOs to call on the government to provide vital support to overburdened and under-resourced nations, by boosting New Zealand's overseas aid and climate action.
Over 18 months, and after over 3000 petition signatures, 500 personal letters and postcards, and over 30 meetings with MPs, we saw the results of this collective effort in October 2021 when the Government announced $1.3 billion for climate action overseas between 2022 and 2025. This is a four-fold increase on the previous commitment! We are continuing to push for an increase in overseas aid in other areas such as on healthcare, social support and humanitarian relief.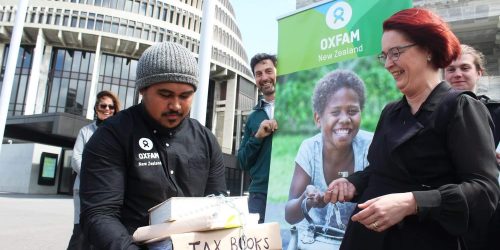 In 2018, the Fair Tax Now campaign focused on increasing tax transparency in Aotearoa as a way to stop multinational tax avoidance. Oxfam asked the government to make corporations publish country-by-country reports on their key financial information. This effort to open the books saw an 8000-strong petition and forced Parliament and Inland Revenue to engage in how New Zealand could increase transparency and stop tax avoidance.
We continue to support advocacy on tax transperency and other tax rules that benefit people in poverty through supporting the work of Tax Justice Aotearoa.