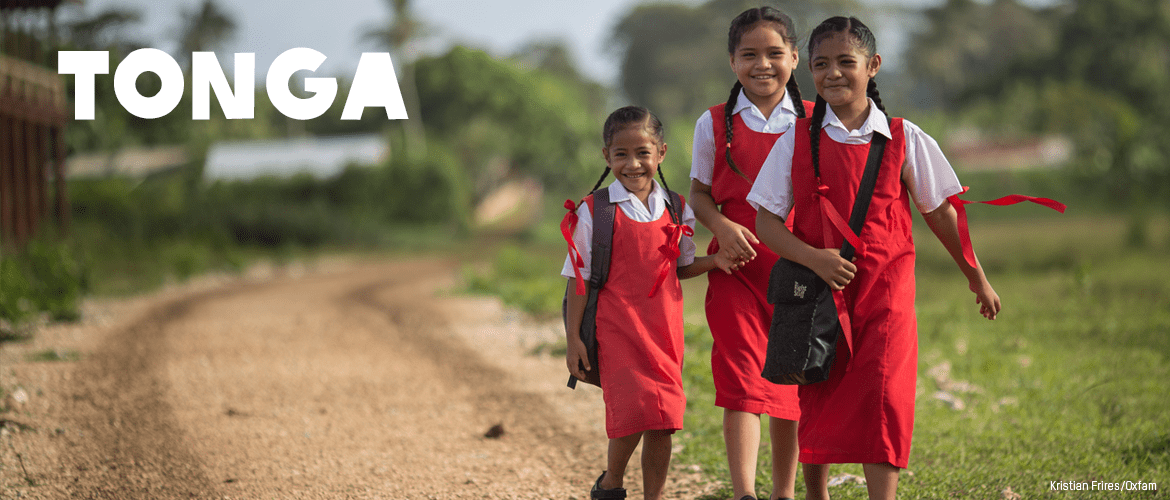 The Kingdom of Tonga is a remote, low-lying archipelago in the South Pacific.
Country profile:
Tonga has a highly vulnerable small island economy and is susceptible to natural disasters. Its isolation and scattered population create economic difficulties including high transport costs and limited markets. Unemployment in rural areas is alarmingly high and wealth remains unevenly distributed. There are very few salaried employment opportunities for young people and a high level of outward migration. Remittances from workers in NZ, Australia, and the US make up 30% of the GDP, but as the global recession has taken its toll, less money is coming into the country.
It is a constitutional monarchy undergoing political reforms. The country is slowly inching towards full democracy and addressing issues of representation, accountability and transparency.
Quick facts from the UNDP Human Development Report and The World Factbook:
Region: Polynesia

Capital: Nuku'alofa

Population: 106,398 (2018)

GDP per capita (USD): $5,900 (2017)

Human Development Index: 0.726 (2017)

Language: Tongan, English

Adult literacy: 99.4% (2017)

Life expectancy: 73 years (2017)

Access to safe water: 99.6% (2015)

Access to toilets: 91% (2015)

Infant mortality rate (per 1000 live births): 14.1 (2017)
Key projects:

 RESULT Programme in Tonga.pdf
Tonga National Youth Congress (TNYC) is Oxfam's local partner in Tonga.
Established in 1991, TNYC is a civil society organisation that works with youth to encourage and empower their talents and creativity.
TNYC is the national focal point for organic farming. They promote and develop income generation opportunities through the Future Organic Farmers of Tonga (FOFT) programme. In partnership with the Ministry of Agriculture, it provides training, farm demonstrations and monitoring and evaluation of agricultural activities.
TNYC raise awareness of the benefits of organic farming and provide support and advice on local and international marketing strategies. They also coordinate a network of organic organisations. Collective action means that organic growers can be more effective in lobbying the government for support.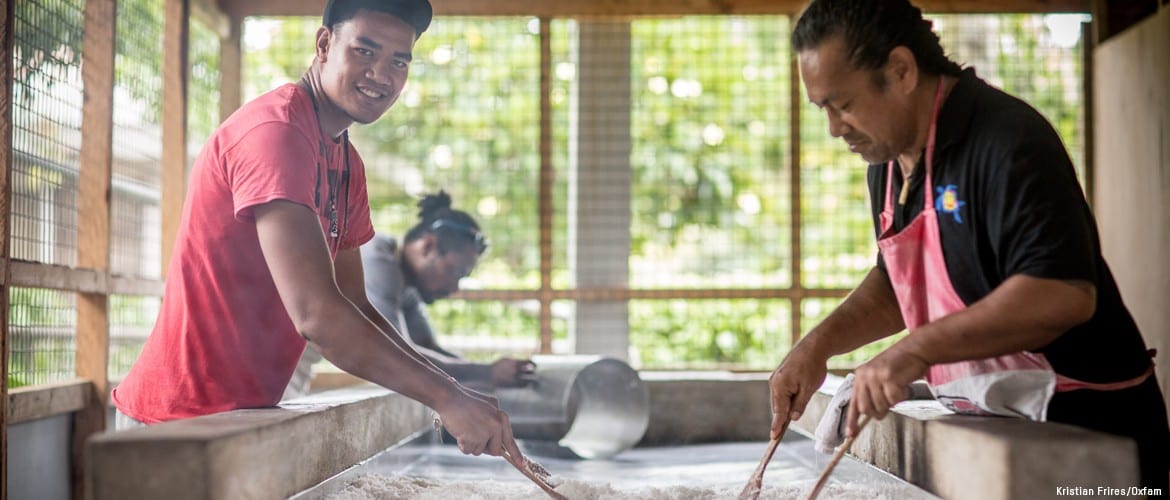 Virgin Coconut Oil
Oxfam provides TNYC with equipment and expertise to help producers turn the abundant coconut crop into a high-end export product.
Oxfam provides coconut driers, oil presses, drying sheets and other equipment to extract oil from dried coconuts. TNYC Field Officers are trained and supported to visit farmers and assist them with production, processing, quality control, and marketing. We work closely with TNYC staff to develop business and marketing plans for virgin coconut oil (VCO) producers and help TNYC sell their VCO to a range of customers including Heilala Vanilla, cruise ships and a local ice cream firm.
The latest news: