After a night of howling winds, torrential rain and power outages, Samoa has emerged largely unscathed from Cyclone Amos.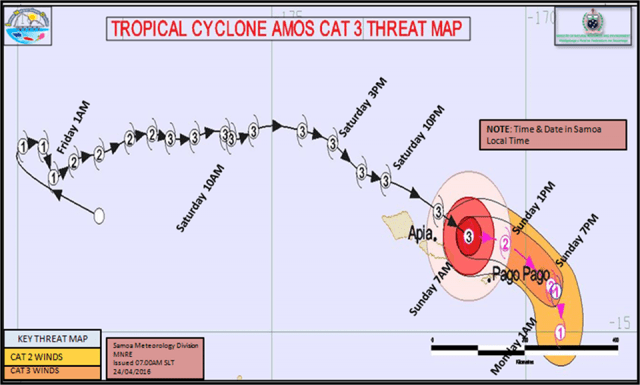 After a night of howling winds, torrential rain and power outages, Samoa has emerged largely unscathed from Cyclone Amos.
Despite falling trees, some roads being swept away and flooding in low lying areas, there was less damage than anticipated. There has been no loss of life reported.
A category three storm that reached wind speeds of 120kph, Amos travelled very quickly through the country. The centre of the cyclone passed between 20 – 25km along the northern shores of Savai'i and Upolu, missing the capital Apia. The Samoan Meteorological Division reported heavy rain, strong winds and high sea swells. Heavy rain warnings remain in effect and a flood advisory is in place in coastal areas. The storm is veering south-east away from Samoa.
Oxfam New Zealand is sending humanitarian staff to assess if any response is required in coordination with the Samoan Government and other local humanitarian agencies.
Carlos Calderon, Oxfam's Humanitarian Manager, will be travelling to Samoa today. He says: "Once again Pacific communities are bearing the brunt of the super-charged El Niño gripping the region. Our thoughts are very much with those who had to endure another near disaster but we are relieved that Samoa escaped relatively unscathed.
"Oxfam has a deep relationship with communities in Samoa going back to 1991. Part of our work there has focused on ensuring that communities are prepared for extreme weather events.
"In 2012 we installed rainwater tanks, cyclone-proof shelters and latrines in coastal communities and supported cyclone debris removal from water sources on the outskirts of Apia. Our expertise is in water and sanitation, and we have equipment ready in Samoa to initiate water trucking if it's required. Oxfam will be listening to local people and organisations, taking our cues from the Samoan government."
Oxfam has many years' experience of relief work in Samoa, supporting communities in the immediate aftermath of the devastating 2009 tsunami and following 2012's Cyclone Evan.
We have also been partnered with Women in Business Development Inc (WIBDI) since 1991. Through the partnership, hundreds of families are using organic techniques to grow more and better food. This has meant healthier diets, as well as new sources of income, as excess crops are sold in local markets. Through WIBDI, families are producing virgin organic coconut oil for The Body Shop and organic bananas for export, both of which are generating valuable income. Farmers have also learnt how to save fruit and vegetable seeds, ensuring a consistent supply of food throughout the year. These programmes increase people's resilience and enable quicker recovery when disaster strikes.
To support Oxfam's emergency work donate to our Disaster Response Fund.