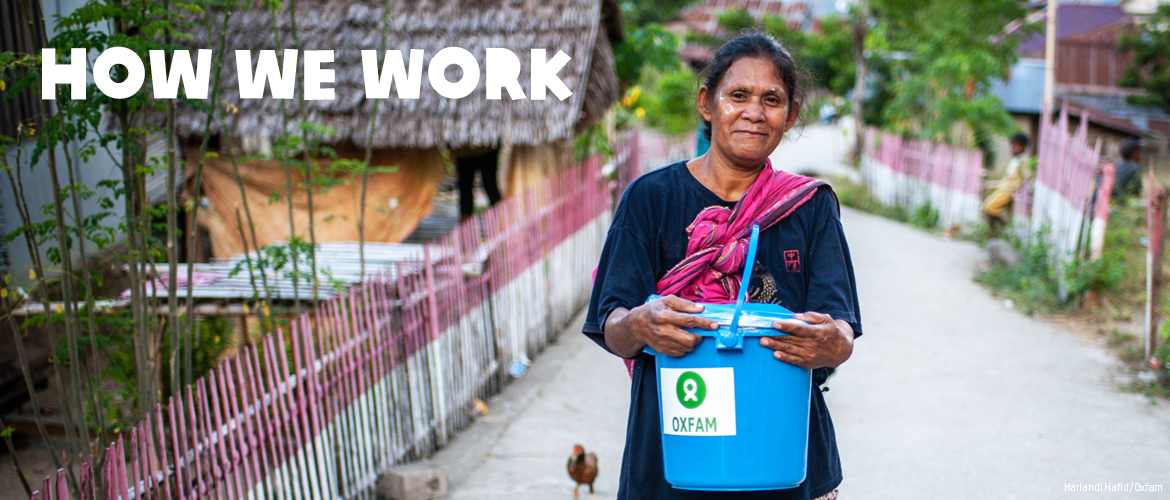 No one knows a community's needs better than the people who belong to it.
One in three people in the world lives in poverty. Oxfam is determined to change that by mobilising the power of people against poverty.
Around the globe, Oxfam works to find practical, innovative ways for people to lift themselves out of poverty and shape a better future for themselves. We respond fast when crisis strikes and stay to help rebuild their lives. And we campaign so that the voices of the poor are heard.
In all we do, Oxfam works with partner organisations and alongside vulnerable women and men. We know that by working together and sharing our collective knowledge, we can achieve more than we ever could on our own. And we won't stop until every person on the planet can enjoy a life free from poverty.
There in an emergency
When disaster strikes, Oxfam is there. And we stay to help make communities stronger.
Emergency response lies at the heart of Oxfam's work. At any given time, our global teams are responding to an average of 25 emergencies worldwide. Whether it's a natural disaster or political conflict, our job is to help people survive and protect them from further suffering in times of uncertainty.
We make sure people can access clean water and good sanitation. We provide help for people to get food and the essentials they need to survive. And we ensure the most vulnerable are kept safe from harm. We also stay for the long-term and help rebuild communities to come back stronger from disaster and face the future on their own terms.
Learn more about Oxfam's emergency response.
There for the long haul with impactful programmes
We work at a local level to promote development and, help people to help themselves out of poverty.
No one knows better what a community needs than the people who belong to it. That's why Oxfam partners with local groups – people who are already working hard to help themselves and are committed to building a better future for their communities.
We carefully select partners that share our vision and are well-placed to help us achieve our goals. Because our partners understand the local context and help us to connect with communities. The work we implement together encourages real participation of people living in poverty, increasing the sustainability and impact of our work, as a result.
Oxfam works together with our partners and learn as much from them as they do from us. Oxfam Aotearoa currently partners with 19 organisations in the Pacific.
Advancing women's rights and building fair, sustainable livelihoods are the most effective ways to end poverty. Our programmes help women become full and equal members of their communities and are dedicated to securing the rights of all people living in poverty to food, income security, and fair work, for example.
What does ending the injustices of poverty look like? Providing access to clean, running water. Supporting communities to rebuild stronger after a crisis. Educating farmers to grow a variety of food to sell at markets and feed their families'. Empowering women to live free from discrimination and violence. Supporting youth through training and viable employment opportunities. Ensuring girls have the chance to gain an education. With your help, we can create a more equal and sustainable world.
Find out more about our programmes.
There campaigning for lasting change
From the Beehive to the UN, we make sure the voices of the world's poorest people are heard loud and clear. We bring our passionate supporters together to challenge the structures and powers that trap people in poverty – to end it for good.
Every action is powerful. Using your voice, signing a petition, writing a submission, pressuring big businesses. Because when we speak as one, world leaders listen.