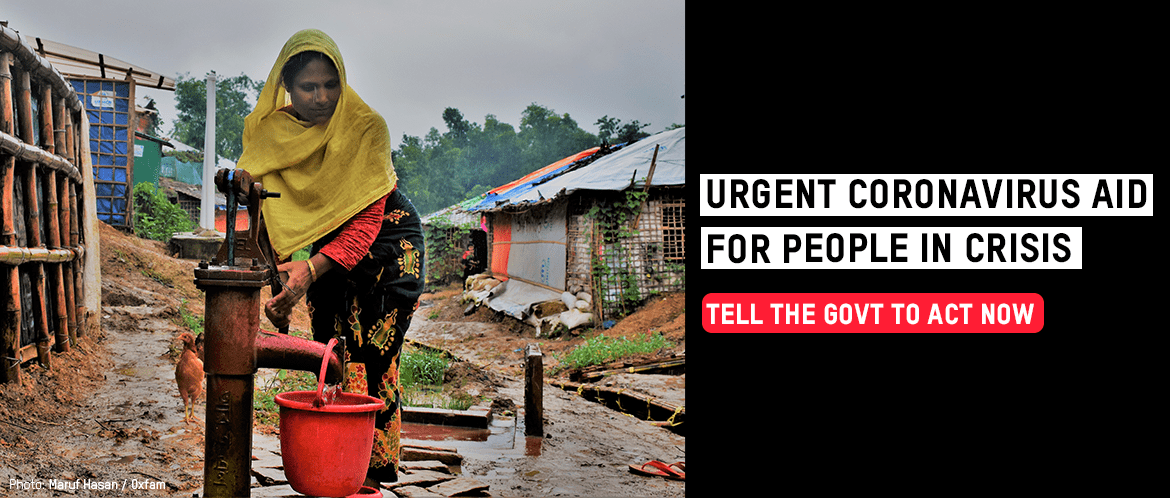 Ask the government to fund an emergency global humanitarian response to Coronavirus
The people in our government have the power to act now to stop the nightmare of Coronavirus spreading in refugee camps, in slums, in conflict areas around the world. But we must act urgently.  
Add your voice for global solutions that can help us all to stay healthy and get through this crisis safely. Send an email to the government today.
Our email form makes it easy to send a personalised message straight to the inboxes of Prime Minister Jacinda Ardern, Foreign Minister Winston Peters, and Finance Minister Grant Robertson.
Oxfam is calling for the New Zealand government to respond immediately to the unprecedented global coronavirus crisis by: 
p

rovid

ing

NZ$25 million in immediate, additional humanitarian funding as part of an emergency Coronavirus response package for people living in the world's worst crisis and emergency situations;

a

dvocat

ing

for the cancellation of all external debt payments due to be made in 2020 by developing country governments, so they can focus on keeping people healthy;

p

rotect

ing

and maintain

ing

existing commitments to aid and climate finance budgets so that less people are thrown into poverty by this crisis.
To get you started, below are some statements you could copy and paste into the message, or edit in your own words.
Remember, the more personal your letter, the more impactful it will be.

I care about this because I value our shared humanity in this moment

.

Pandemics know no borders and neither does our compassion

.

As a [mother/father/person caring for my family], I value collective kindness to get through this challenge together.

Now more than ever, we need to work together as one human family to look after each other, especially caring for people who are enduring the harshest situations.
Why the Prime Minister and key decision-makers should act:
Everyone

 

has

 

the

 

right

 to 

safe

 

handwashing

, sanitation

 and 

clean

 

water

 to


 

keep

 

themselves

 

safe

.

 

No-one is safe until everyone is safe. We can't leave anyone behind.

As

Prime Minister Ardern

said to the 

University

 of the South Pacific earlier this year, collectivism and cooperation, listening and understanding one another's needs – it's the Pacific way.

I believe

our political leaders

can rise to this moment because we are united in our shared humanity

.