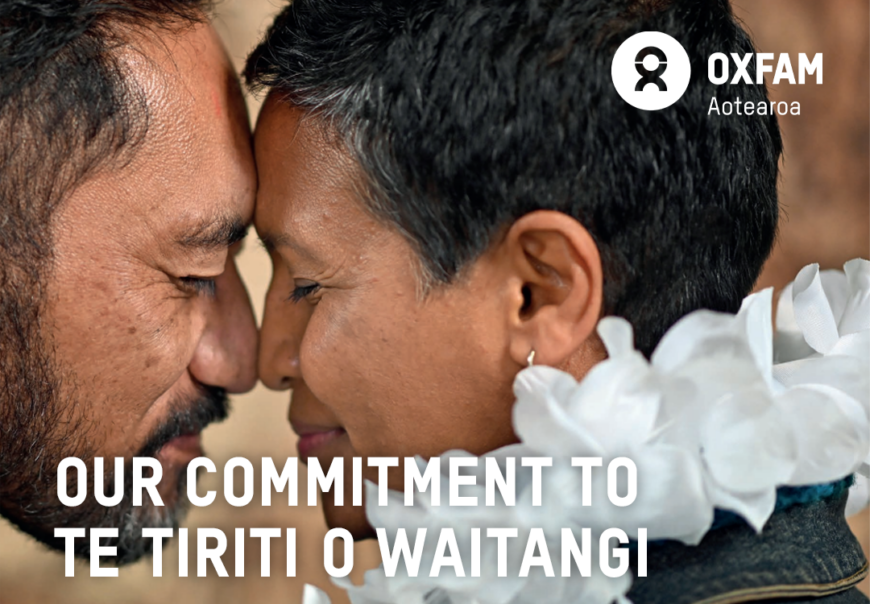 As an international development agency, we recognise that we can only support and partner with communities across the world if we also support the self-determination of tangata whenua here in Aotearoa.  
In supporting self-determination of tangata whenua, we want a meaningful and committed relationship that better informs how we work together with partners and colleagues elsewhere in the world on their own mana motuhake journey. That means supporting the tino rangatiratanga of Māori as enshrined and protected in Te Tiriti o Waitangi. The work Oxfam Aotearoa supports in the Pacific and around the world is enabled by virtue of the place that Te Tiriti o Waitangi gives us in this land.   
We acknowledge how various forms of discrimination intertwine with each other, and know that racism often comes attached to other injustices, and we commit to challenge them all.  
We recognise the complex ways in which, historically and currently, international aid and development has perpetuated power imbalances and neo-colonial relationships, and we seek to transform global development from a model of 'charity' to one of justice.   
Our core values – tika justice, māia courage and manaaki connections – shape our kaupapa and our commitment to it. These values are not just outward-facing, our staff live them and use them as a compass to guide our journey as individuals and an organisation.   
We commit to doing the work required of us to better understand and respond to the historical and current racism and colonisation of Aotearoa, and other intersecting injustices. This will help our team walk with authenticity alongside those who are experiencing neo-colonialism and injustice around the world today. We want to contribute constructively to conversations about the future of Aotearoa, and the political and constitutional systems that need to be transformed to live up to the promise of Te Tiriti o Waitangi. 
This is only possible alongside a stronger understanding of Te Ao Māori, which brings a more holistic, relationship-centred approach, which is central to our kaupapa.  
We acknowledge that it is an ongoing organisational journey to deepen our knowledge and response to the history, impacts, and contemporary importance of Te Tiriti o Waitangi. We are committed to this journey. Some of the steps we are taking along the way include the following. 
Establishing our Co-Chair model for our Trust Board that encompasses the partnership principles as well as growing the

 experience

 of Māori and Pasifika in our Trustee membership

 

Our Trust Board leadership providing guidance and direction as we grow our understanding of 

Te

 Ao Māori.

 

Building and exploring our own 

kaupapa

 ways of working that are grounded in our values: 

māia

 courage, tika justice and 

manaaki

 connectedness.

 

Learning and establishing our rituals and ways of marking important moments such as welcoming guests and new staff to our workplace.

 

Learning and using 

waiata

 to acknowledge and honour events and speakers.

 

Understanding more of our own whakapapa, our different heritages and how power and privilege impact and play out in our lives and in society.

 

Supporting the establishment of the

 Pacific Koloa Collective, which represents indigenous Pacific and Māori development and humanitarian practitioners within international non-government organisations in Aotearoa New Zealand.

 

Changing our name to Oxfam Aotearoa

.

 

Ongoing staff professional development: trainings in 

Te

 

Tiriti

, tikanga and 

te

 

reo

 Māori.

 

Continuing to 

integrate the

 use of 

te

 

reo

 Māori into our communications, such as reports, social media and the website.

 

Together with Oxfam International, we signed the Pledge for Change to build a stronger aid ecosystem based on the principles of solidarity, humility, self-determination, and equality. 
We commit to hold our māia high as we learn more and challenge each other on power, privilege, and prejudice here in Aotearoa, as we must in other parts of the world. We will learn from  Te Tiriti O Waitangi and the promise it reflects as we progress our te pae tawhiti vision of a just, inclusive and sustainable world, now and for future generations.